Merging More Than Business Operations: A Look at Culture Change Post-M&A
Most senior executives agree that culture is an intangible part of their organization and a critical element of managing a smooth integration during the merger of companies. Yet the opinion among managers remains widespread that not enough attention is devoted to this vital part of the process or to seeing efforts through to the point where the full value of the merger is realized. Beyond addressing formulation of the new vision and holding a town hall to share with internal teams, executives are still falling short.
So, what are some of the main reasons for cultural disconnect following M&A?
There are many and, in this article, we will point to some of the most common obstacles to the successful merging of cultures and subsequent transformation and discuss several solutions for addressing these challenges.
Discomfort with Change:
Resistance to change is a natural phenomenon. Some leaders believe that concerns of losing a job to "synergies" created by a merger will motivate employees to strive for more, but this thinking is overly rational and does not appreciate the emotional side of human nature. Change is never as clean as we hope and we should expect that it will be messy, confusing, and not as straightforward as we plan for it to be. Many employees have built stable careers on being able to perform routinized tasks at a consistently high-level and asking them to attack new challenges or assume a new role on the team will surely cause some discomfort. Thankfully we can anticipate this reaction and devise a plan to mobilize our teams (more on this later).

Resistance to change is a natural phenomenon
Disconnection of Teams from The New Vision:
The town hall or company-wide e-mail is probably the most common medium for sharing a new vision or setting large strategic plans in motion. While they serve a distinct purpose of getting everyone in the room or ensuring everyone got the message, they are not a fully adequate solution. If you're like most employees, you may leave the event with more questions than answers. Even if there is a Q&A, does everyone really want to ask questions in front of the whole company? We know there is sufficient business rationale for executing the merger, but what does this actually imply regarding my ability to achieve my monthly targets?
Speaking of which, what am I doing standing around this town hall when I have so many other things to do? **Checks e-mail on phone while CEO is speaking about new vision and misses key parts of the leadership's message**
Lack of Clarity and Communication:
The point when employees start to resist change or question the new vision of the company is precisely the moment you need to communicate. But now that the merger has closed and it is announced, business tends to continue as normal and attention reverts to achieving the new objectives. Culture change takes months not weeks of sustained communication, and like any long-term initiative efforts are difficult to maintain.
These challenges appear simple on paper, yet they are easily forgotten and can build up to forecast a messy and prolonged integration of cultures. Leadership needs to emphasize the need for managers to double down on their efforts and place extra attention on managing the human-side of their organization.
So, what actions can be taken to address these obstacles?
Below is a look at the SpringPillar framework for cultural transformation and three thoughts for achieving cultural transformation during M&A.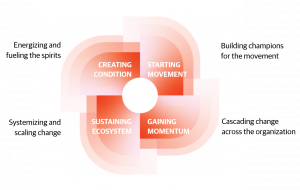 SpringPillar framework for achieving cultural transformation
Inviting Openness to Change:
It is precisely during this moment of uncertainty that employees benefit most from leadership. Good leaders inspire and motivate their teams by using vision, purpose, or meaning to convey the value of the merger beyond the economic benefits for shareholders. Good leaders make change relatable and personal. They hold events that excite the workforce, spend time to upskill employees, and prepare plans that help teams adapt to the new organizational environment. For example, a leading market research company in the US held a transformation hackathon to connect with employees and encourage them to share their thoughts about transformation. The company ended up with a collection of insights about the fears held by employees and was able to confidently design a transformation program that would mitigate these concerns.
Making Culture Inclusive:
While the revised vision and purpose of the new organization and brand that emerge from a M&A will be determined by a team of C-suite, Branding, and HR executives, the culture of the company is determined by many more. Managers need to think early about how the vision is cascaded through the organization and who are the change-makers that will buy-in and be influential to help spread the word. This select group of individuals serve as a de-facto mechanism for feedback on rollout of cultural transformation. In this sense, the new culture of the company is co-created, and your team of cultural influencers help keep the organization onboard by communicating the change narrative in a more authentic manner as well as acting as a sense check on behalf of front-liners. We see top companies beginning to utilize people analytics and big-data as a compliment to on-the-floor observational techniques for identifying the core team of change-makers.
Communicating Early and Often:
Leaders need to set the transformation narrative, sustain communication throughout the entirety of the transformation journey, and equip managers with the tools to engage employees early and often in a conversational and informal context. Sitting down with your Branding and HR teams or brand consultancy partner to create a communications plan is going to provide you several certain benefits: 1) guiding water cooler conversation and staying in control of any "whispers" 2) alleviating anxieties and maintaining productivity levels and 3) and performing an ongoing "heat check" to see where your front liners stand.

SpringPillar framework applied to M&A
Culture change is undeniably resource-intensive, but culture is also one of the few intangible assets that strengthen your brand while providing an inimitable competitive advantage for your company. Invest in your people and they will provide you the return you are looking for.