Beyond the Buzz of Transformation
Many organizations have been in the process of transformation in the past few years as the market landscape evolves seeing the introduction of new business models such as the sharing economy platforms and the tension between growing internationalization and more protectionist mindsets, organizations have to adapt to the evolving marketplace in order to stay competitive to the consumers and compelling for their employees.
Transformations are a foundational change in how an organization delivers value to their customers whether it is B2B or B2C.
Renewed leadership with a renewed purpose 
With new leadership, comes a renewed sense of purpose which drives organizations towards embracing or re-embracing the renewed vision.
In order to drive the new purpose, leaders need to encourage people to come onboard and participate in the initiatives that drives this renewed purpose.
No longer just a fancy new slogan to set the new leader's era, there is growing importance of also building initiatives to encourage organizational members to actively participate in this new movement, without making them feel like it is just a short-term hype.
For leaders, crafting a renewed purpose is important, but more so, it is important to get support from all levels within the organization behind this renewal.
The need to stay relevant and evolve in the current landscape
Industry 4.0? Digital disruption? Changing consumer and market landscape? These are all challenges that organizations grapple with. In order to stay relevant, evolve or be left out.
Looking through the history of the top 500 S&P companies and influential brands, many brands that we grew up with are no longer as influential as they were, if these still existed.
Transformation occurs when organizations need to stay relevant in the ever-evolving landscape while keeping true to the core of the brand itself, in order to maintain differentiation.
As much as there is data that helps to inform key decisions, it is also crucial to listen to the ground, and keep a finger on what's happening all around in order to build intuition into the organization in maintain its relevancy.
B2B – to C
This is a big shift in mindset and perspective. Getting the organization to achieve this paradigm shift is also why many tradition B2B organizations are looking towards how they can start building a relationship with their consumers.
It requires a mindset shift, reinforcements and encouragements for right actions in order to drive this bigger change in purpose for the organization to successfully achieve transformation.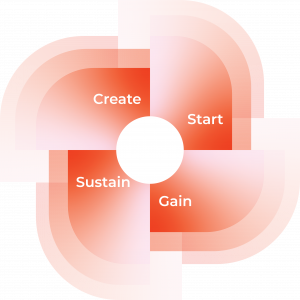 Beyond the Buzz of Transformation
Having the vision to transform marks a leader with great foresight. Beyond the visionary transformation leaders, actions needs to be taken to cascade the vision and to land the vision of transformation in organizations.
Have you thought about the actions that makes the vision happen? Have a chat with us to find out the variety of programmes that can be done to empower your organization towards landing the transformation.
SpringPillar empowers organizations to land transformation through a suite of programmes designed to catalyzed meaningful collaborations within the organizations to fulfill the brand purpose.